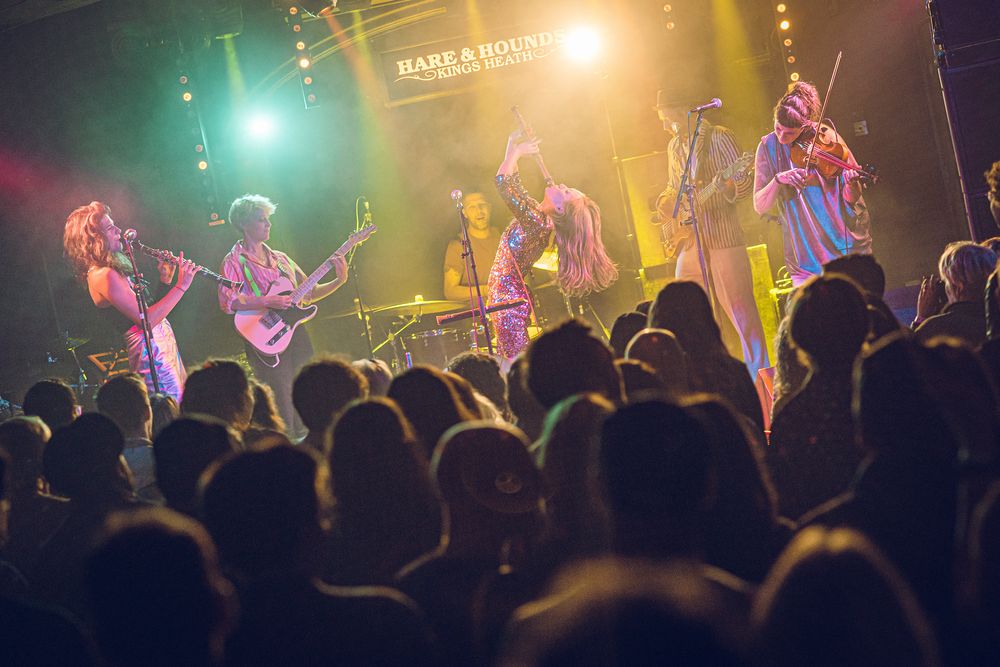 About us...
The electrifying sound of Birmingham's fiery, (un)traditional folk band Bonfire Radicals is both intensely creative and irresistibly fun. Their live set is a frenzy of energy – "dynamic and high octane" (Fatea Magazine) – and captures the adventurous breadth of their musical imaginations which emerge from a melting pot of tunes and songs from the British Isles to the Balkans. 
Their recently released album, 'The Space Between', was met with great acclaim and went straight into the UK Folk Charts at #13. 
The band features an all-female front line of recorders, fiddle, clarinet, and vocals set alongside a punchy rhythm section of electric guitar, bass, and drums. French melodies decorate African groves, delicate English folk song is underscored by Heavy Metal, Klezmer moves through moments of Art Rock, Brazilian drumming accompanies snapping Scottish Strathspeys… 
Bonfire Radicals have been delighting audiences across the UK with their vibrant approach to traditional and contemporary folk music, and they are quickly making a name for themselves as "an outfit who specialises in creating a raucous and danceable feast" (At the Barrier). 
Quotes...
"A serious powerhouse of a performance ... foot-stomping and adrenalin-powered and came on like folk music played by ravers." - The Artsdesk ★★★★  
"With an electrifying global sound, the Radicals deliver a swaggering, sweaty set guaranteed to get listeners up and dancing. Exhilarating and exuberant" - Songlines ★★★★  
"Boundary challenging" – RnR  
"Birmingham's finest progressive folk band" - TradFolk  
"Bonfire Radicals are a proper folk melting pot, a hot, simmering six-piece whose banging and crashing rollercoaster of sound is alive with possibility and thrills… wholly unpredictable and astonishingly eclectic." - Folk Radio  
"Their shows are vibrant, high energy affairs, wilfully eclectic … unashamedly about entertaining the audience, which they did here in spades, but which has a more serious side too. All are highly skilled musicians who are capable of operating across a variety of musical genres." - Cheltenham Jazz Festival 2022  
"What a show from those girls and boys - stunning stuff and what a way to close the Garden Stage. They were superb. Grinning from ear to ear whilst generating a maelstrom of Greek & Eastern European influences overlaying a traditional British folk vibe. Great musicianship across the board […] they really let rip and got into the groove. Wonderful." - Festivals for All  
"Quite staggeringly special" Fatea Magazine
Bonfire Radicals are 
Katie Stevens - Clarinet/Kaval/Vocals 
Michelle Holloway - Recorders/Flute/Vocals 
Sarah Farmer - 5 string Viola/Vocals 
Pete Churchill - Bass/Vocals 
Emma Reading - Guitar 
Ilias Lintzos - Drums